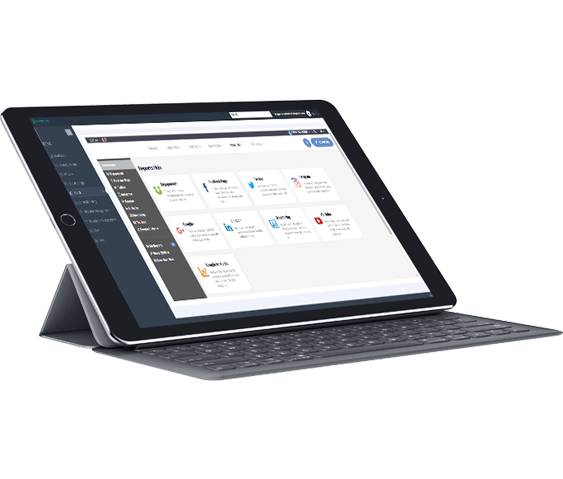 Social Media Management
The Social Media module is one of the most automated and powerful tools in it's category.
Gain control of your social media presence while saving time and efforts by monitoring and engaging every social media channel all in one place!
Create and schedule posts view all of your social feeds track your competition and see industry relevant conversations from across the web so you always have something to post.
Manage social networks, schedule messages, publish content, engage with your audience and measure ROI from our all-in-one dashboard.
With Unlimited profiles that can be set up per account, your not capped to the amount of social streams you can view and manage in the portal.
Connect to just about any social network including Facebook, Twitter, LinkedIn, Google+, Pinterest, Instagram, YouTube and more. Even publish directly to WordPress, Blogger and Tumblr! Synce up over 25 different platform integrations, more integrations than any other tool!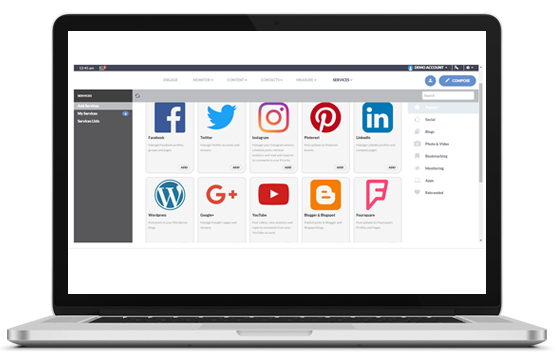 Sync up over 25 different platform integrations
Unlimited profiles that can be set up per account
Automated engagement tools to grow your audience 24/7
View, manage, and engage all streams in one dashboard
Powerful and in-depth analytics to help you track results
Send text messages to contact list from inside the portal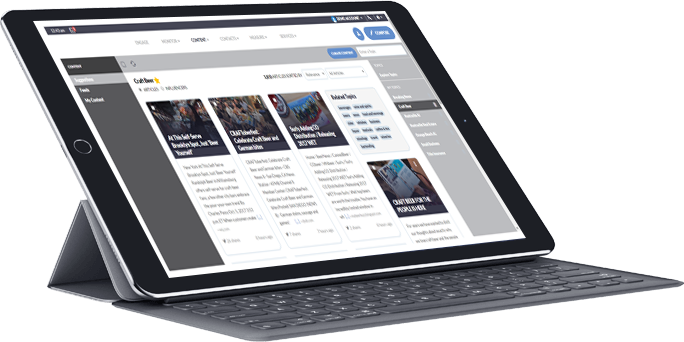 DISCOVER
Discover the best content to share
Use our advanced content recommendation engine to ensure you're sharing only the freshest, most engaging content with your audience.
Discover and engage with top influencers in your industry
Create streams of all of the blogs & content you follow
Read your content at your convenience
Publish content and view all of your social streams in one simple feed

Aggregate the content your interested in

Plan, schedule and publish posts, images and videos to multiple social networks simultaneously using our powerful compose box

Content curation is made simple. We analyze posts already shared on social media and suggest content most likely to generate high follower engagement.

Curate content suggestions based on targeted keywords to help discover interesting information to share with your followers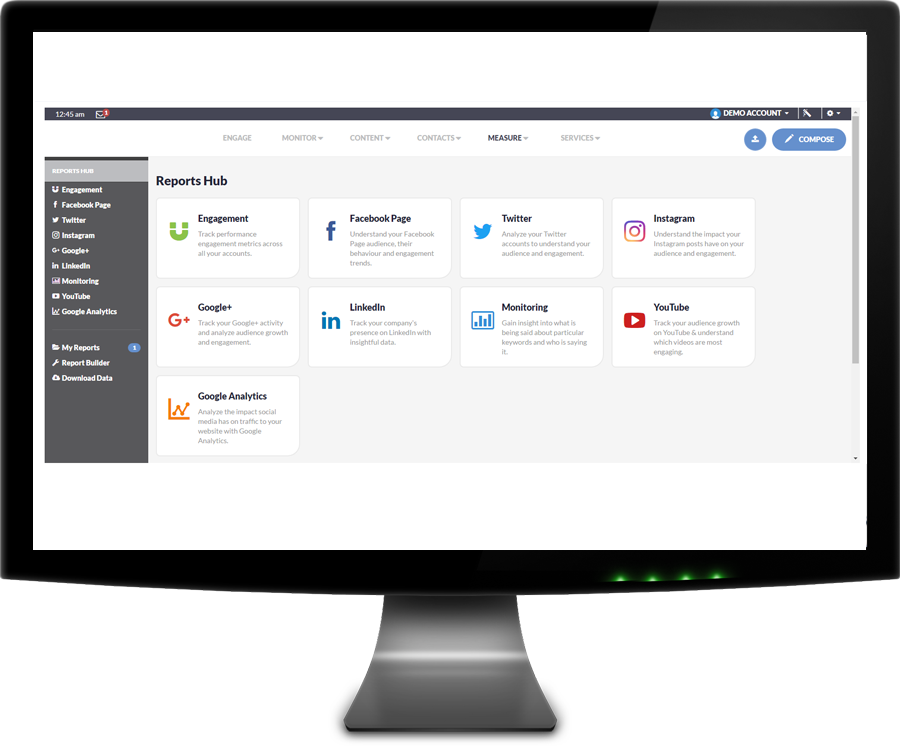 Engage
Streamlined scheduling & social media publishing tools
View and respond in real time right through the platform to Increase your social engagement.
No need to log into each account!
Publish content at optimal times, quickly spotting the messages resonating with your audience to reach the most people.
Schedule posts to go out at times that you know you'll get the best reach and engagement
Seek out and connect with Industry Influencers based on keywords and word-cloud related topics
Seize opportunities via social listening
To see this module in action, click the button to Schedule a free demonstration!
Analytics
Powerful social media reporting is one click away
Generate in-depth reports for Facebook, Twitter, Instagram, LinkedIn, Google Analytics and more. Our Reports Hub gives you nine ready-to-go social media reports for an instant snapshot of your social data.
Gain dynamic insights and Grow your following from with real social data
Deep analytics to show you how your social strategy is working, best times to post, and more!
Track brand, competitor and key industry terms to stay ahead of the curve.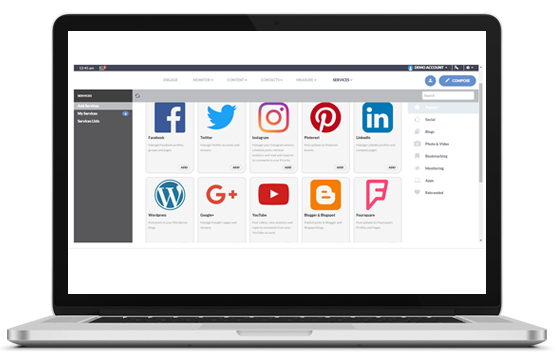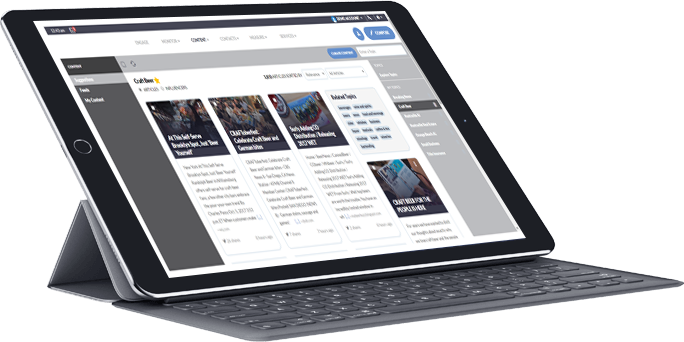 Automation
Schedule Posts days, weeks, or even months in advance!
Organic growth of your social audience using automated engagement tools like..
Twitter Auto Replies
Twitter Auto Retweets
Instagram Follow/Unfollow
Instagram Auto Like
SOCIAL
Facebook, Twitter, LinkedIn, Google Plus, Foursquare, Plurk
BLOG's
Blogger, Blogspot, WordPress Posts, Tumblr, TypePad, Ning, MovableType, Medium
PHOTO/VIDEO
Instagram, Pinterest, YouTube, Flickr, Scribd, MobyPicture, SlideShare
Bookmarking Sites
Delcious, Diigo, Identi.ca, Instapaper, Pocket